UPCOMING EVENTS
Please join us for our Virtual Information Sessions! Learn more about eligibility and everything Scholarship Plus has to offer, including tuition assistance, paid internships, mentoring, academic and personal support, and so much more!
Register here: https://forms.gle/koRBoxRAygKtruUB8
PAST EVENTS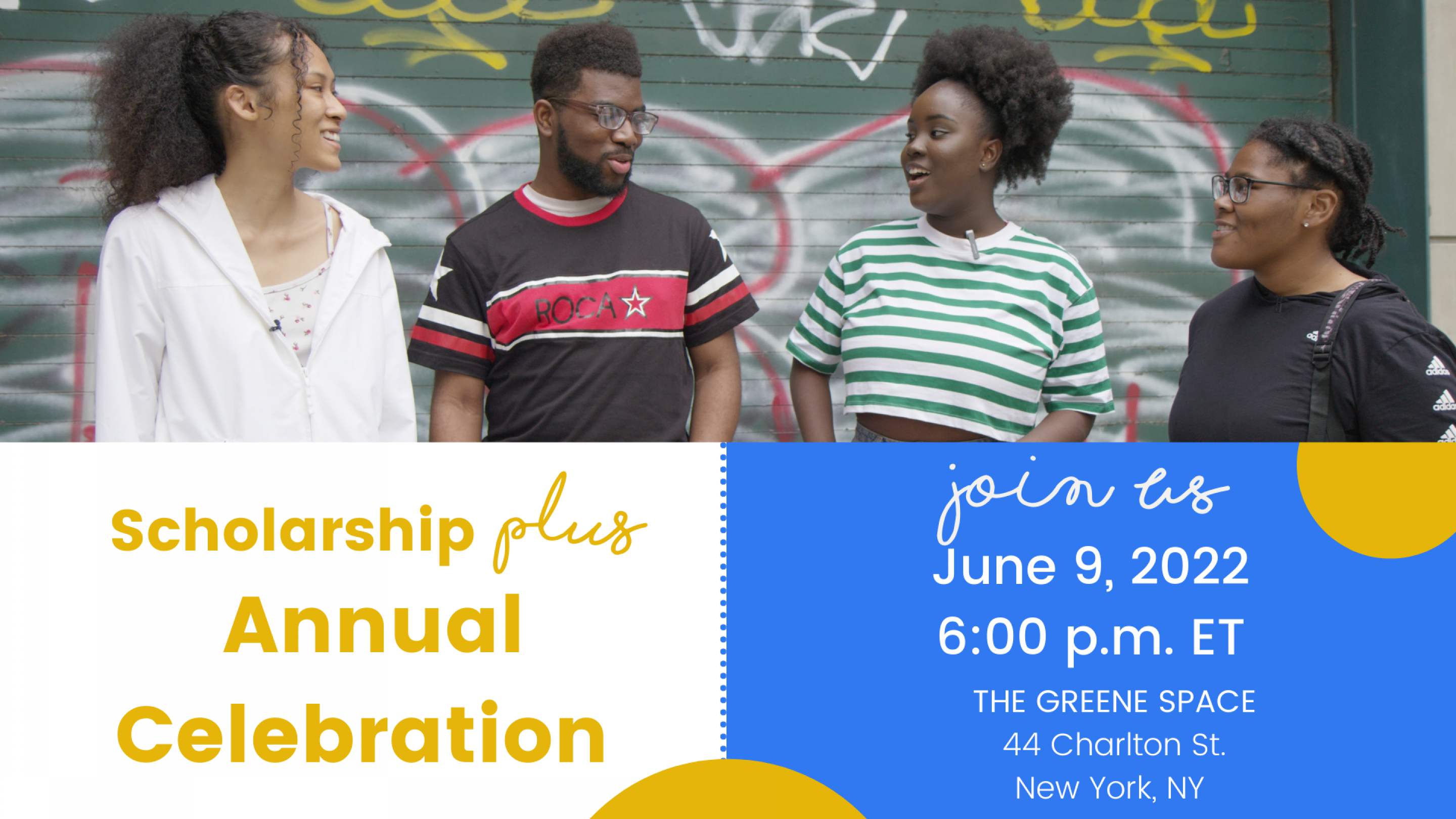 Please join us on June 9th to celebrate Scholarship Plus' new class of 20 scholars and to honor the college graduates!
We are returning to the space where it all began 13 years ago: The Greene Space. We will be holding a smaller in-person event and will also be live-streaming the event.
EVENT DETAILS
5:30pm — Light snacks and summer drinks
6:00 pm -7:30pm — Event and live stream
The Greene Space Covid Policy: As of April 2022, attendees will need to wear masks and show proof of full vaccination.
WATCH THE LIVE STREAM @ 6pm HERE: https://youtu.be/X0jZ2zdi_FE
---
Scholarship Plus & The Chronicle for Higher Education "The Covid Crisis: Helping First-Gen Men"
Scholarship Plus is honored to have been invited by industry standard The Chronicle for Higher Education to participate in a virtual panel , January 27 at 2 p.m. ET. Our Director of Scholar Success, Shari Simon, will be addressing why fewer men of color are going to college, particularly those from low-income backgrounds.
Panel Description: In the next installment of our series "What It Really Takes to Be a Student-Centric Institution", experts on access and enrollment will discuss how to support male students and answer your questions:
Why are fewer men going to college?
How can colleges solve the challenges of this population through new and innovative ways?
How may these solutions help other student groups on campus as well?
Hosts:

Sarah Brown,

Senior Reporter,

The Chronicle for Higher Education and

Anthony

Jack

, Assistant Professor of Education, Harvard University
Thursday, January 27 @ 2 p.m. ET
---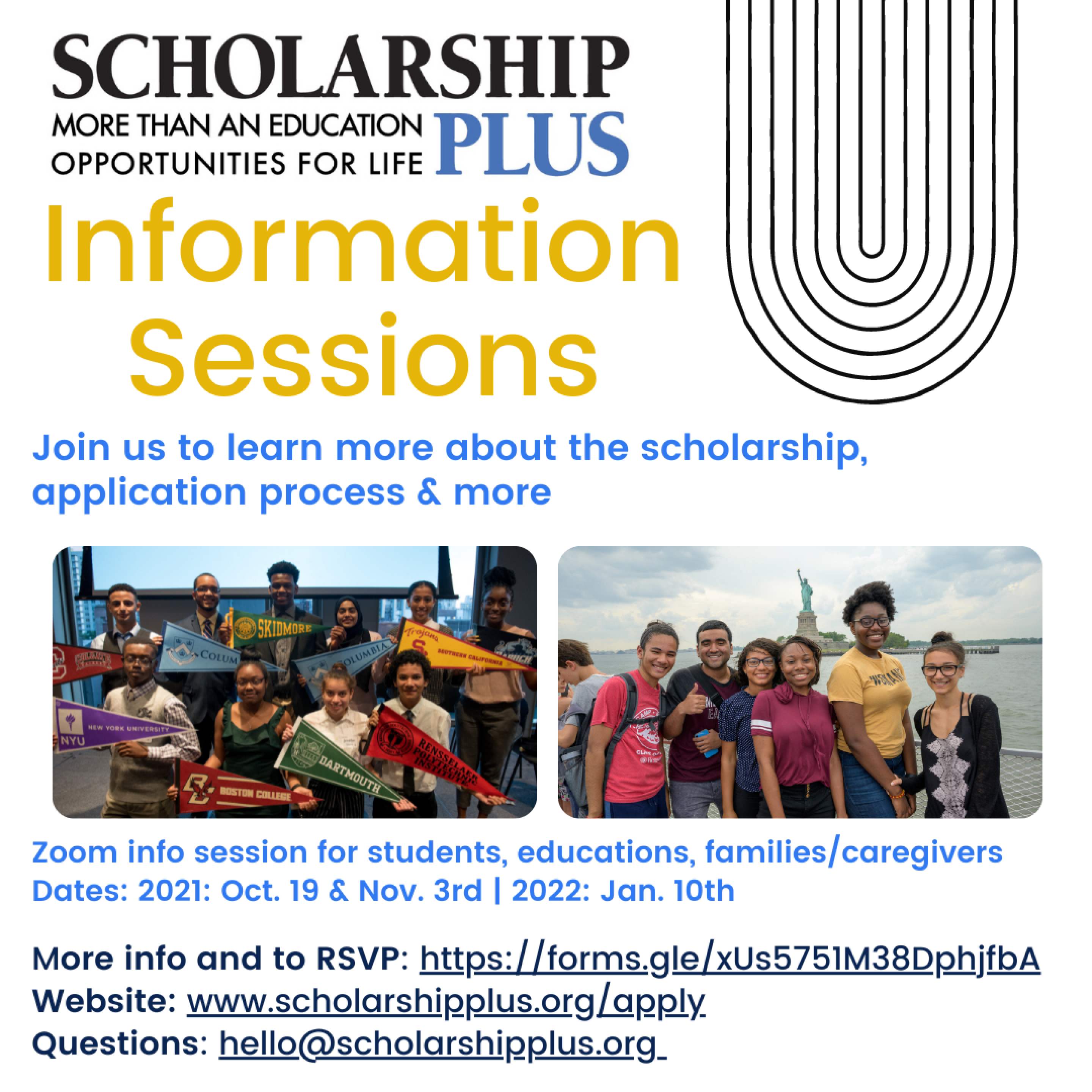 Please join us on Oct. 19th, Nov. 3rd, or Jan. 10th
---
Join us for Virtual Coffee

Community Members, please grab a cup of coffee or tea on October 13th at 10 a.m. EDT and join the SPlus team on Zoom to hear program and scholar updates, and learn of opportunities to stay involved with Scholarship Plus.
---
Alternative Paths Through Medicine
Two friends of Scholarship Plus spoke candidly to scholars about alternative paths through medicine.

The Power of Us.
The Power of Plus.

June 8, 2020
Annual Awards Night
Join us in welcoming our 11th and largest class of scholars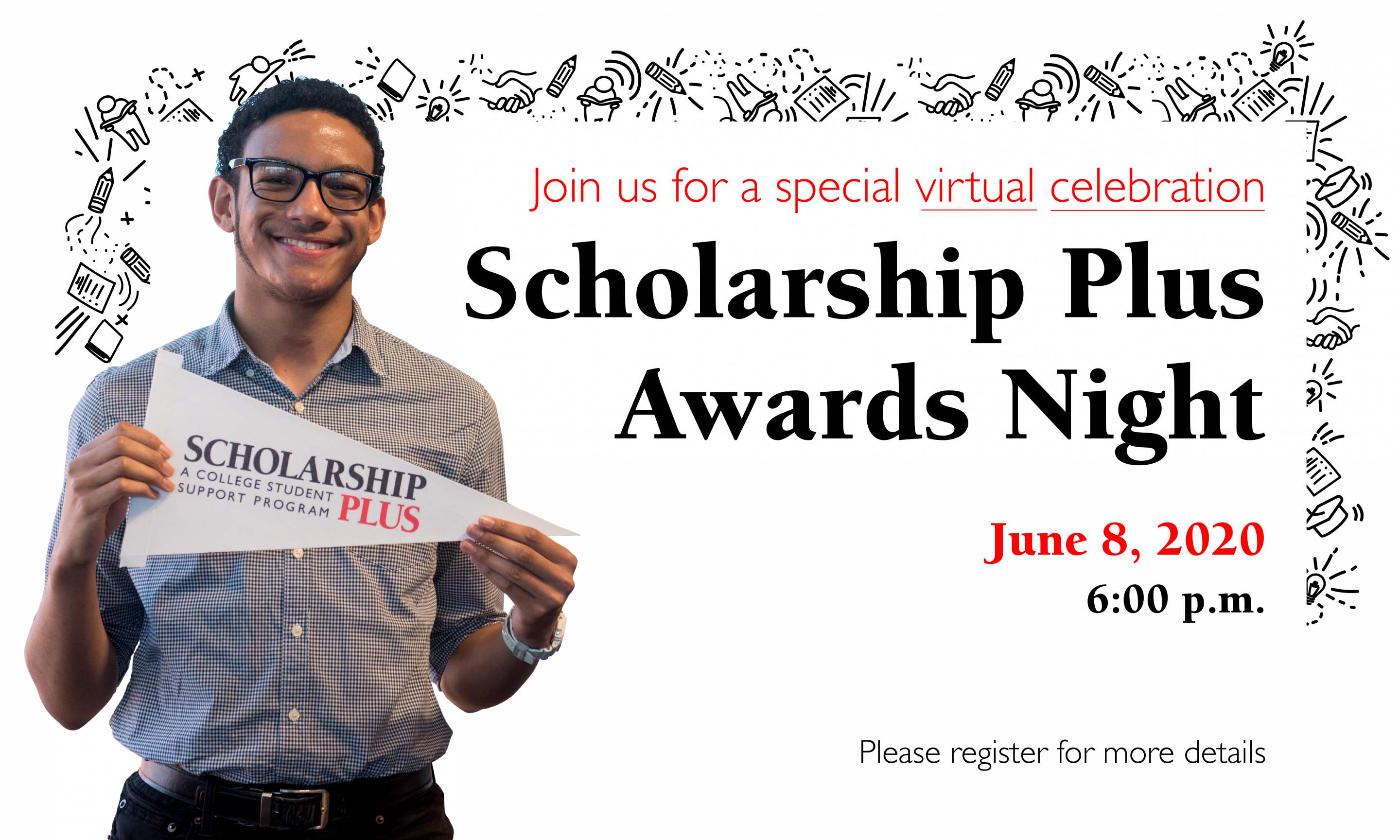 Photo by Skyler Reid
Grab a drink and join us virtually for an inspiring night!
Scholarship Plus will be celebrating college graduates, welcoming the new class of scholars, and honoring their Teachers Who Make a Difference.
This year, along with going virtual, we will be changing the format to keep it to an engaging hour-long celebration. We are excited to spend this time with you honoring some outstanding young people and their teachers who give us hope in a difficult time.
Please join us for this uplifting evening!
June 8 at 6 p.m.
Oct. 15, 2019
SOLD OUT
An Evening with Dr. Anthony A. Jack
11 Times Square*
6 p.m.

Photo by Todd Dionne
Join Scholarship Plus board member, Harvard Graduate School of Education assistant professor, and Amherst College alumnus Dr. Anthony Abraham Jack, author of The Privileged Poor: How Elite Colleges are Failing Disadvantaged Students, in a conversation about the challenges and triumphs of low-income and first-generation-to-college students. More than just documenting the problems, Dr. Jack offers systemic solutions.
Dr. Jack, a native of Miami, received a scholarship to attend Gulliver Preparatory School, an elite private high school in South Florida. He went on to receive degrees from Amherst College and Harvard University. He is currently a Junior Fellow at the Harvard Society of Fellows, an Assistant Professor at the Harvard Graduate School of Education, and the Shutzer Assistant Professor at the Radcliffe Institute for Advanced Study. His scholarship appears in the Du Bois Review, Sociological Forum, and Sociology of Education and has earned awards from the American Sociological Association, Eastern Sociological Society, the Association for the Study of Higher Education, and the Society for the Study of Social Problems. His writing and research have been featured in the New York Times, Boston Globe, The Atlantic, The Huffington Post, The National Review, The Washington Post, and NPR.
*Seats are limited. Please reserve here.
For more information about the event, please contact Anna Antoniak (anna@scholarshipplus.org).
This event is co-hosted with the Amherst College Alumni Association of New York and Microsoft HOLA
Sep. 23, 2019
Annual Associate Board Rooftop Social
Upstairs at the Kimberly Hotel
6:30 p.m.

Please join Scholarship Plus' Associate Board for our annual social and fundraiser! We are back on the rooftop at the Kimberly Hotel with an open bar of wine and beer, great hors d'oeuvres, and another excellent raffle. 100% of the profits will support low-income, first-gen NYC students with a substantial scholarship and individualized support. Scholarship Plus has a 100% college graduation rate.
You can purchase your tickets here. We look forward to another memorable evening with you all!
The Kimberly has a dress code: Business Casual, no sneakers, caps or flip flops

All guests must be 21+